---
---
Putin's Propaganda Artists
In the service of evil
Anyone who criticizes Anna Netrebko must take a closer look at the no less celebrated bass Ildar Abdrazakov. For the directors of Europe's leading opera houses, it is time to finally take action
Stephan Burianek • 19. Juni 2023
This is an updated version of a German article issued on February 22nd.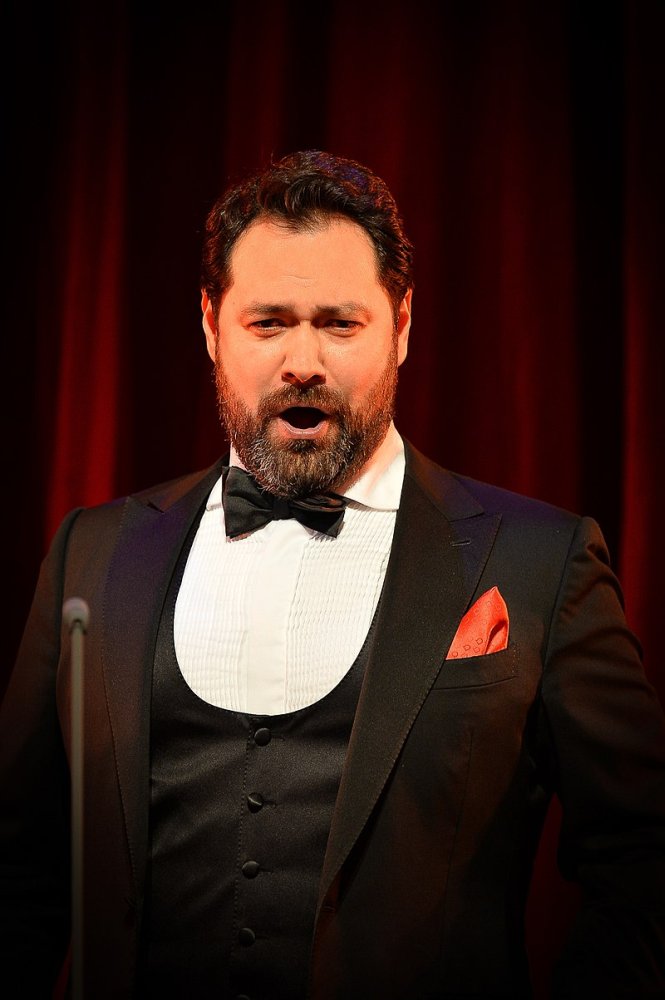 The great Jewish Austrian chamber singer Hilde Zadek, who died aged 101 in 2019, would probably assess the current situation in the following way: a singer must have a wide breadth of knowledge that encompasses more than just the music world, but also includes a general understanding of art, politics, and human nature, as she said in a recently rebroadcast 2011 interview from the Austrian radio station, Ö1. A singer, she said, must become "a real human being" through an intensive study of humanity's themes and not "merely a singer," otherwise he or she would not be capable of embodying the part in question. This makes sense; after all, the common operas primarily oppose the abuse of power and advocate for the personal freedom of the individual - as well as the peaceful coexistence of nations and against warlike megalomania. These are ideals that an artist should share in our society.
In response to Russia's full scale invasion of Ukraine last year, Russian artists in particular should publicly position themselves against this imperialistic act of aggression. Though no artist should be expected to face the dangers posed to dissidents, at the same time, it should be clear: if an artist advocates inhumane and indefensible political stances, then it is necessary for us to respond to them. After all, the current situation is not about Russia or the Russian people, but about a genocidal regime that has been persecuting and killing opposition figures, other minorities, and independent journalists for many years - and is now openly hostile to the West. Neither freedom of expression nor political direction is at stake here — it is nothing less than the defense of our civil liberal society, the maintenance of a rights-based international order, and basic democratic principles that, despite all difficulties, are hopefully still supported by the majority of people in Europe.
There has always been controversy surrounding Anna Netrebko on this issue, as she has condemned the war via various spokespersons, but with obfuscating wording (see also the hotly-debated commentary by Martin Kienzl). At the same time, the soprano has never personally expressed empathy for the Ukrainian people, while she regularly posted selfies with national Russian symbols on her public Instagram profile, and described 2022 as "better than the year before." Just coincidences? Hardly. She cannot be questioned on this subject – she rejected a request for an interview with opern.news.
When Uwe Eric Laufenberg, who is known for recruiting Netrebko to Wiesbaden for the recent May festival, accuses his critics of "moral hysteria," it sounds like the argument of someone who has no arguments worth mentioning. It is quite possible that Laufenberg, who also provoked with performances during the Covid lockdown era, now also simply wants to attract attention to himself.
The focus on Anna Netrebko distracts from other similar cases. Ildar Abdrazakov, for example: the bass, who is in his prime, is not only an exclusive artist of Deutsche Grammophon (a German classical music record label), but is also a popular guest at Putin's propaganda events. For example, in May 2022, when he sang several arias in St. Petersburg's Palace Square at a kitschy, glorified peace-and-joy concert - so too, incidentally, did Italian singer Vittorio Grigolo - who appeared visibly amused in a photo taken offstage which was later posted on Instagram. At that time, the Bucha and Irpin massacres were already known around the world. Just five days earlier, he had sung on a no less prominent stage in Moscow's Red Square, at a festive event in front of Valery Gergiev's baton. There, the former KGB agent Vladimir Mikhailovich Gundyaev, better known today as the warmongering Patriarch Kyril, also spoke. Pianist Denis Matsuev also played at the event, which conspicuously left many audience seats empty. In September 2022, Abdrazakov performed at the Eastern Economic Forum in Vladivostok, also with Gergiev. At this event, Putin hailed the war effort as a cleansing of "harmful" elements within Russia.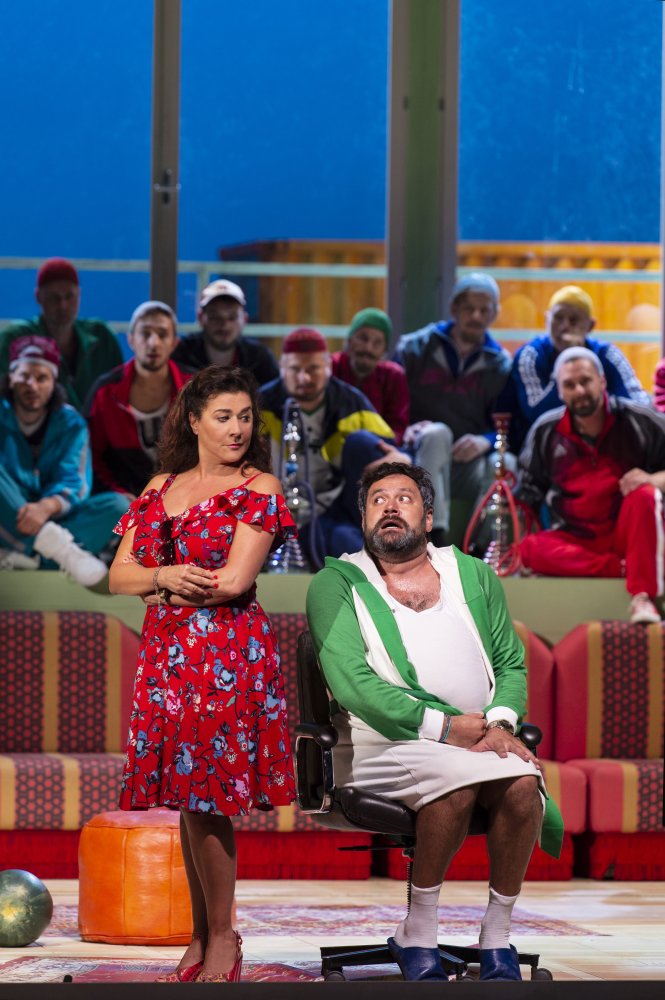 As if these optics were not devastating enough, Russian sources place Abdrazakov in a close circle around Russia's Defense Minister Sergei Shoigu, as evidenced by a video showing Abdrazakov jovially dancing and singing with other artists and the defense minister. This group includes "folk artists," as well as soprano Hibla Gerzmava, at a boisterous New Year's celebration (although it is not certain from which year this video originates).
This coincides with the fact that Abdrazakov withdrew from Mussorgsky's «Boris Godunov» at La Scala in Milan on December 29th, 2022; he instead performed at an eponymous musical gala at the Irina Viner-Usmanova Gymnastics Palace in Moscow. Irina Viner-Usmanova is a member of the Supreme Council of Putin's United Russia party. At the time of the concert, sirens were wailing throughout Ukraine, warning of incoming Russian missile attacks.
Abdrazakov's closeness to the Russian leadership is obvious and hardly surprising; after all, the annual "Ildar Abdrazakov International Festival," which aims to promote young talent, is co-financed by the Russian government. Putin addressed the festival attendees through an official letter, which was also published on a Kremlin website. As is well known, art in Russia, like sports, is exploited as a propaganda tool. On the day the original German language version of this article was published, Abdrazakov was giving a concert in Sochi, as part of a festival at which Teodor Currentzis was also conducting. This festival suspiciously took place around the anniversary of the full scale invasion of Ukraine. (Note as of Feb. 24, 2023: An earlier version stated that Abdrazakov and Currentzis would appear in the same performance; this was incorrect, they performed as part of the same festival, but on different dates).

Vienna, Munich and Paris are now in demand
Of course, one could now object: What should Abdrazakov do? To speak out against Putin would possibly endanger his health and that of those close to him. But what this shows us is this: Ildar Abdrazakov does not need the West. But does the West need artists like Ildar Abdrazakov? We do not know the conversations Abdrazakov has had with those responsible at the Vienna State Opera, the National Opera in Paris, or the Bavarian State Opera, where Abdrazakov is still scheduled to perform this season despite everything. Perhaps he has credibly distanced himself from the violations of nations and human rights in confidential one-on-one conversations. What is clear, however, is that every artist who performs in the West and carries out propaganda in Russia legitimizes the regime to some extent.
Even if a comparison with Nazism is always controversial, certain parallels with the "Putinist" system are obvious: the child abductions; the massacres mentioned above; the vitriolic, monopolistic propagandist media that is largely unnoticed in the West and accompanied by constant calls for escalation. All of this is the tip of an iceberg that will perhaps only become more visible in the coming years. We are not talking about a phenomenon that will be over in the foreseeable future and that merely needs to be endured. We are talking about acts of barbarism that have led to lasting damage in international relations and that will take years to resolve at best, whether one wants to admit it or not. Commitments by fellow travelers, beneficiaries, and front-row supporters, even if it may hurt us fans, are no longer tenable in liberal Europe. One year after the beginning of the cynically called "special operation" attack on the whole of Ukraine, the directors of the above-mentioned opera houses should finally realize this, too, if they do not want to betray this very freedom under the guise of artistic freedom.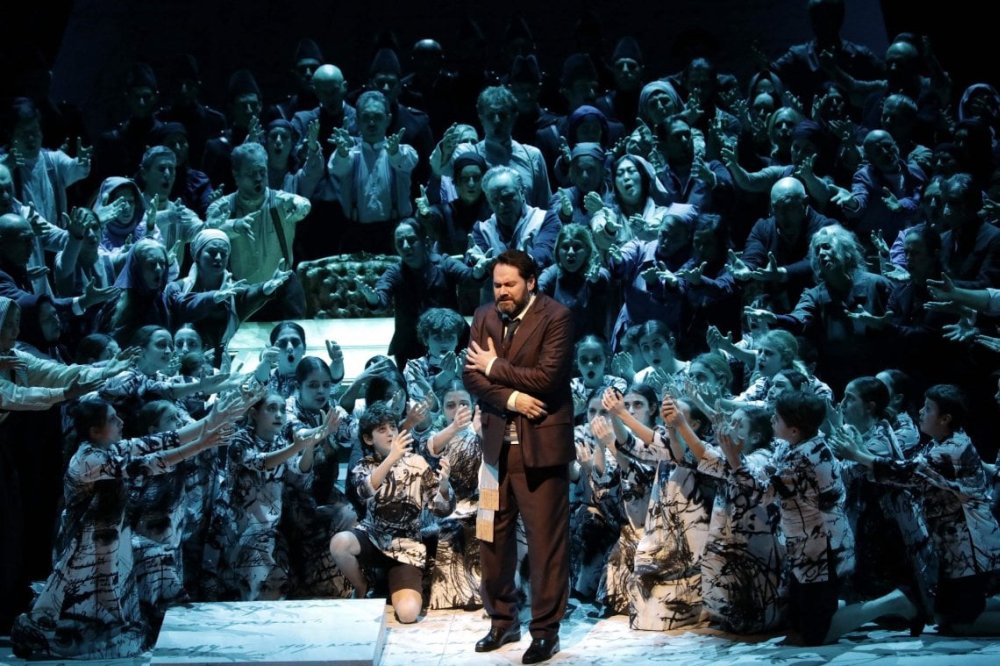 Obviously, these directors also ignore or even endorse the mental pain they inflict on their employees who are victims of Russia's aggression. Ukrainian Soprano Olga Bezsmertna addressed this issue in an interview with opern.news last year. For fear of repression, however, most of those concerned only dare to say under their breath how difficult it is to be forced to work with colleagues who carry out propaganda for the aggressor. There are no longer any illusions of the harmonious multinational community that so many theaters boast of.
Hilde Zadek, who was able to flee from the Nazi Germany to then-Palestine, said in the above-mentioned interview about humanistic questions in the appropriation of singing parts: "I believe that one deals with this too little. If one would deal with it more, then one would get closer to the content of the music." In truth, dealing with it in terms of our civic humanist tradition, open society, rule of law and democracy, both in art and elsewhere, is even more urgent than the climate protection debate, because this, like all discourse, could not be conducted freely at all under a dictatorship.
We thank Migdalia R. Tracy for her valuable help in ensuring that this English translation is at a professional level.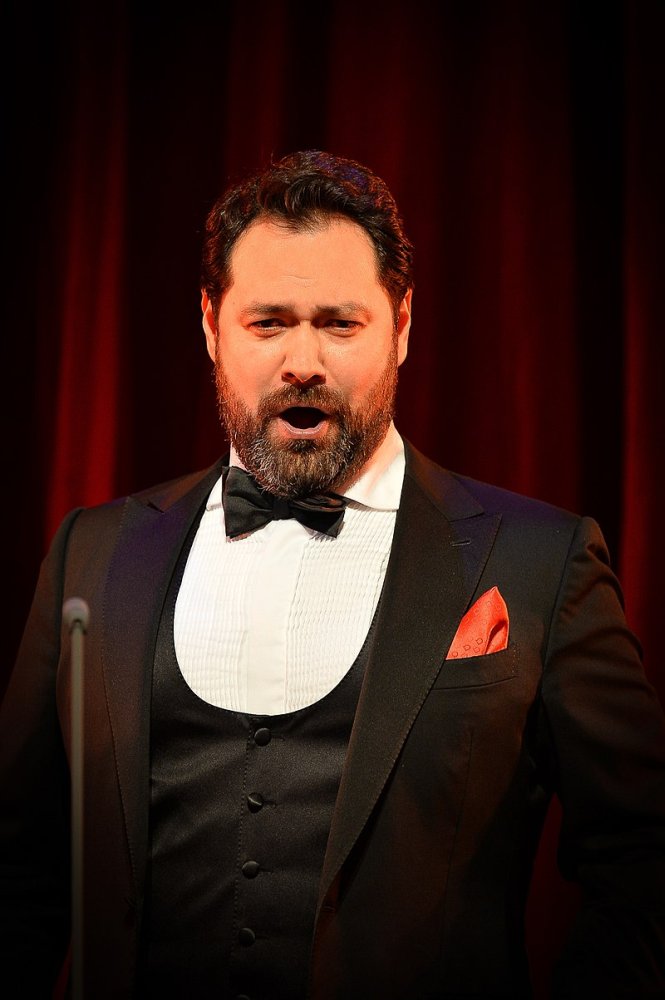 Ildar Abdrazakov, pictured here in 2018, has close ties to the Kremlin
© Gil Zetbase, CC BY-SA 4.0
Ildar Abdrazakov, pictured here in 2018, has close ties to the Kremlin
© Gil Zetbase, CC BY-SA 4.0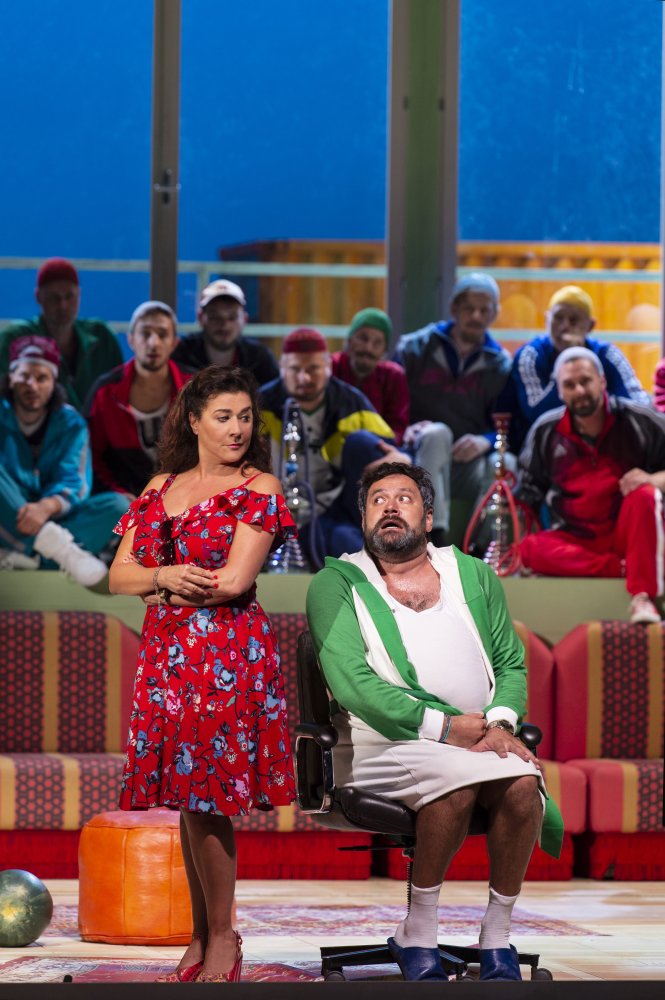 Abdrazakov last appeared at the Salzburg Festival in 2018, in Rossini's «L'italiana in Algeri» alongside Cecilia Bartoli, now director of the Opéra de Monte-Carlo, where Abdrazakov will sing again this April
© Ruth Walz / Salzburger Festspiele
Abdrazakov last appeared at the Salzburg Festival in 2018, in Rossini's «L'italiana in Algeri» alongside Cecilia Bartoli, now director of the Opéra de Monte-Carlo, where Abdrazakov will sing again this April
© Ruth Walz / Salzburger Festspiele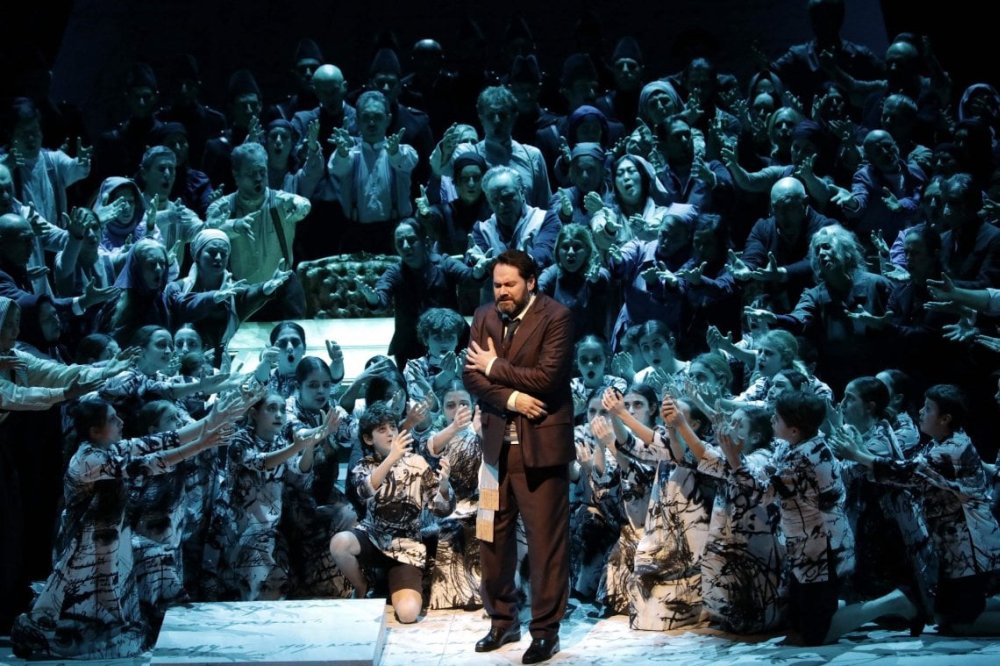 Ildar Abdrazakov sang the title role in Mussorgsky's «Boris Godunov» at La Scala in Milan in December 2022 - except for the last performance, which he preferred to a propaganda event in Moscow
© Teatro alla Scala
Ildar Abdrazakov sang the title role in Mussorgsky's «Boris Godunov» at La Scala in Milan in December 2022 - except for the last performance, which he preferred to a propaganda event in Moscow
© Teatro alla Scala